ALL PARTS ARE SOLD AS NON-AIRWORTHY. They must be inspected by a qualified aircraft engineer before use in an airworthy aircraft.
Tiger Moth Oil Tanks (Used)
SOLD OUT

Scarce Inclinometer 6A/389
SOLD OUT - More Wanted

Tiger Moth Aileron Chain Bracket H34917A
PRICE: £20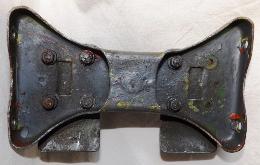 MANY OTHER PARTS available including Tailplane, Elevators and Ailerons.