Contact Us at RAF-Surplus@outlook.com
DR Compass Switchbox 5C/993
As fitted to AVRO Lancaster Pilot's Instrument panel.
SOLD
Identification Lamp Morse Key 5C/372
One screw missing and small chip on case
PRICE: £75
Long Toggle Magneto Switch 5C/1622
Used in the Lancaster and many other types.
PRICE: £125
Switch Panel with Two Magneto Switches 5C/1622 and Switch Guard
One Magneto Switch has no rear cover
PRICE: £295
Rare Shade and Filter Clamp for Navigator's Lamp 5C/3603.
New, old stock. No filter.
SOLD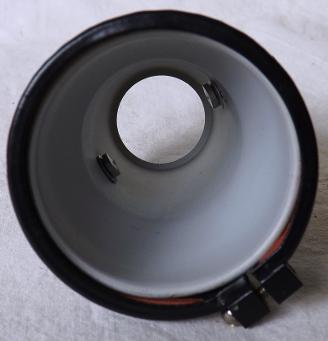 For Herbert Terry Anglepoise Lamp 5C/1079
Scarce Indicator Lamp Change Over Switch 5C/1991
PRICE: £125
Rare Undercarriage Position Indicator believed to be the type fitted to the Defiant and Miles Master
PRICE: £200
Tall Gun Sight Dimmer Switch Type D 5C/847 - 24 volt
PRICE: £75
Switchbox Type B 5-Gang 5C/545
No backplate. Corner damaged.
PRICE: £50
Altitude Switch Type FDQ/A/400 5C/4066
PRICE: £45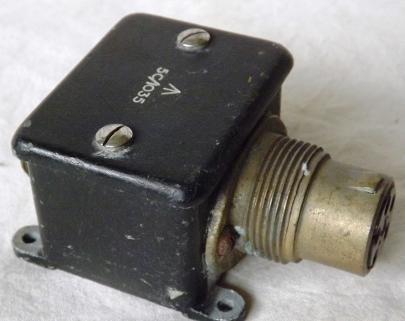 Junction Box Type B 5C/1035
Used in the GEE circuit.
PRICE: £20
Junction Box Type 51 5B/3698
Used in Lancasters to switch between Intercomm and Beam Approach.
PRICE: £50
Inertia Switch 5C/3521
SOLD OUT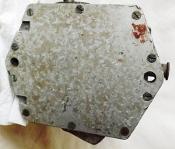 Undercarriage Position Indicator
PRICE: £35
Alarm Warning Bell 5CZ/NIV/145
Used in many American bombers during WW2
PRICE: £20
Dimmer Switch Type A 12v 5C/367
Spitfire, Tiger Moth, etc.
PRICE: £40
Downward Identification Lamp 5C/557
SOLD OUT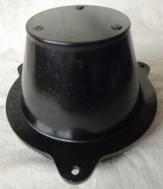 Green Filter for ALDIS Signalling Lamp
SOLD
ALDIS Signalling Lamp dated 1945 - In Wooden Box
SOLD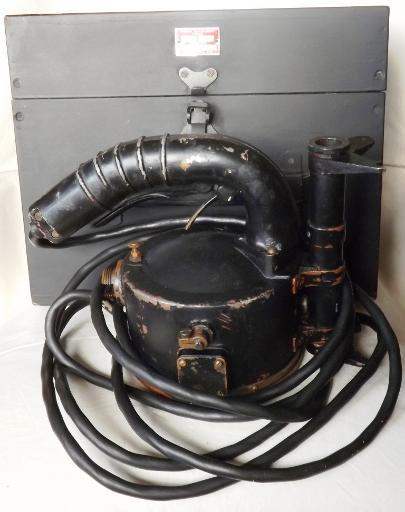 American WW2 Signalling Lamp - Grimes Model K-2
SOLD
Upward Identification Lamp 5C/559 with RED Lens.
PRICE: £40
Spare lenses also available, see below.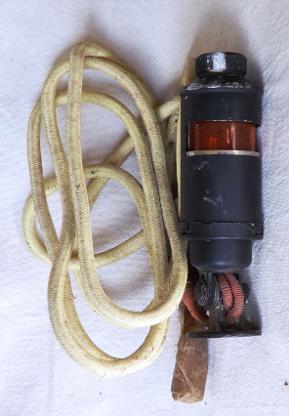 Cockpit Lamp 5C/366 - First Pattern
This is the First Pattern early cockpit lamp introduced in the 1930s and continuing in use throughout WW2.
PRICE: £40
Cockpit Lamp 5C/366 - Second Pattern
This is the Second Pattern lamp used extensively in WW2 until the shortage of brass forced the use of the Third Pattern Bakelite lamp.
PRICE: £40
Cockpit Lamp 5C/366 - Third Pattern
This is the Third Pattern Bakelite lamp introduced in the late War period due to a shortage of brass, and continued into the 1960s.
PRICE: £40

Propeller Feathering Switch 5C/4854
New, old stock still in the cardboard carton.
SOLD OUT

Reflector for 7" Landing Lamp Type G 5C/969

New reflector. No corrosion.
PRICE: £10
Ignition Booster Coil - 37A/1815
As fitted to many single engined fighters during WW2 and into the 1950s.
On the Spitfire there is a second button to the right of the Engine Start button, which when held down, energises this type of booster.
PRICE: £30
Lighting Control Switchbox 5C/3023
Believed to be for Fairey Firefly.
PRICE: £75

Switch Assembly - 26BZ/5906
Believed to have been fitted to the Fairey Firefly.
PRICE: £25
Engine Start Button 5C/898 with Cover 5C/1267
PRICE: £75

Sprung Cover for Push Button - 5K/2724 or AGS1755
These were used to prevent the accidental operation of push buttons 5C/540 and 5C/898. I have also seen these painted red, blue or with diagonal black and yellow stripes.
PRICE: £25 (Pack of 5)
Miscellaneous Items - Hover over items to see details