T1154 Transmitter Valve Type VT104 10E/215
See 10n Radio and Radar Equpiment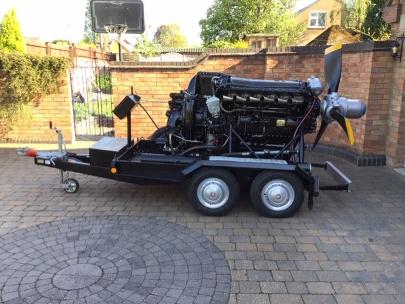 Rolls Royce Merlin 724 in Runnig Order and Mounted on Road Trailer
See Merlin and Griffon Engine Parts page
AVRO LANCASTER Main Wheel Hubs (Pair)
See Avro Lancaster Parts For Sale page
Rare Wartime Oxygen Mask Type E* 6D/624
Scarce Oxygen Mask complete with tube and clip. Some age related hardening of the rubber. Oxygen Pipe available separately.Type 25 Microphone also available.
See Flying Clothing and Oxygen Equipment Page
Pattern 259 Compass see Compasses and Nav Equipment Page.
More new parts added 21/01/2019 in Section 5C, 6B, 6D and 10.
New Parts Added 17/01/2019 in Sections 5C and 8B
Lots of new parts added 30/12/2018 in Sections 5D, 6A & 10H
New items listed on Flying Clothing page.
Switchbox for Mk14 Bomb Sight Installation 5C/2799
See 5D/ Bombing System Components page
Original Glass Screen for Reflector Gun Sight Mk2
Some minor damage, mainly chips around the edges.
See 8B/ Gun Sights and Related items page.
Sea Vixex Gun Sight Display Unit 8B/5055
See 8B/ Gun Sights & Related Items page
PRICE: £85
Amplfier Type A1134A 10U/90
See Radio and Radar Equipment page.
TORNADO GR1
See Aircraft and Projects page
This aircraft was one of the last GR1s in operational service and was finished as she last flew in all over grey. First flown on 28/11/1980, this aircraft served the first part of her operational life on TTTE (Tri Tornado Training Establishment) with tail code B55 before being allocated to 15 Squadron at RAF Lossiemouth. Last flown 31/05/2001, it was then retired to a ground instructional role where she served as the RAF Lossiemouth weapons load trainer as a ground instructional airframe for: 14 Sqn, 15 Sqn, 12 Sqn and 617 Sqn.
Air Speed Indicator from RAF SPITFIRE LF16e SL674
This ASI carries an inscription on the rear which shows it to have been removed from SL674 in October 1951. This aircraft was subsequently placed on exhibition outside the chapel at Biggin Hill. Later it was replaced by a fibreglass replica and SL674 was moved to the RAF Museum at Cosford.
See Spitfire Parts for Sale page
Oxygen Bayonet Union Mk4 6D/526
Complete with Crocodile Clip.
See Flying Clothing and Oxygen Equipment Page
Reproduction Blind Flying Panel Sprung Mounts
Excellent, faithful reproductions of the rare BFP sprung mounts
See Blind Flying Panels and Fixings page..