Contact Us via raf-surplus@outlook.com
Stabilised Automatic Bomb Sight 9/3285, Serial Number 532
This is the actual sighting head known as a Ranging Unit. It is extremely rare, less than 1000 having been built and as far as I know, this is the ONLY one remaining. It was used initially by 9 Sqn and 44 Sqn but was transferred almost at once to 617 Sqn (the Dambusters) who were the only other known WW2 users. It proved very successful in the raid against the Tirpitz although this was actually sunk by a IX Squadron aircraft using the Mk14/T1 Bomb Sight. Several Tiger Force Lancasters and Lincolns were later fitted with it, but were never used. I think that it remained fitted to some Lincolns after the war. The Lincoln at Cosford has a switch marked SABS but is fitted with a Mk14 sight.
NO LONGER FOR SALE. NOW ON LOAN TO EAST KIRKBY BOMBER COMMAND HERITAGE CENTER.

Bomb Sight PR Type 1 9/4532 and Control Panel 9/4533
Believed to have been removed from Valiant B(PR)K1 aircraft WZ389.
SOLD OUT - More wanted

Sighting Head Type T-1 - 109/80 for Mk14 Bomb Sight - LANCASTER, etc

Rare T-1 Sighting Head dated 1943. For use with the Bomb Sight Computer shown below.
PRICE £350
Mk14 and Types T-2 and T-3 also available
Mk14 Bomb Sight Computer 9/125 - LANCASTER, etc

This is the RAF version for use with the Sperry Sighting Head Type T-1 (etc.). It was made in USA under License.
PRICE: £300

5D/634 Bomb Release
Complete with cable and plug and very rare locking ring for key safe.
PRICE: £35
5D/634 Bomb Release
With cable and plug but without locking ring
PRICE: £15
Bomb Distributor Unit 16-Way 5D/663
This is a12v unit.
SOLD OUT - More wanted

Bomb Distributor Unit 32-Way 5D/1065
This is a 24v unit
SOLD OUT - More wanted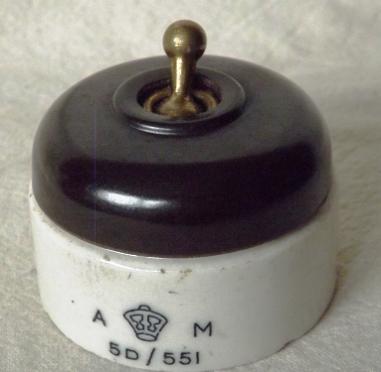 Toggle Switch 5D/551
SOLD OUT - More Wanted

Bomb Selection Switch 5D/1363
SOLD OUT - More Wanted