Tiger Moth Rear Fuselage
No paperwork. Slight damage to upper RH longeron. Appears to be repairable. No apparent major corrosion. Thought to be ex G-ACDJ.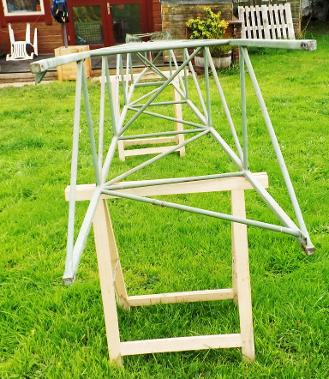 Photo at left shows damage to longeron.
Price: £900 - BUYER COLLECT ONLY!
Many other Tiger Moth parts available.
Tiger Moth Front Windscreen
Frame complete except for some screws and the corner caps. Side glazing clouded but one replacement included.
SOLD
Tiger Moth Rear Windscreen
Frame is missing LH side glazing retainer, various screws and the corner caps.
SOLD
Tiger Moth Instrument Panels
Two available.
PRICE: £75 each
Tiger Moth Strut Mounted "Windy" Air Speed Indicator
Needs new transfer at base.
SOLD
Tiger Moth Control Column - Front (Removable)

Complete with locking pin.
PRICE: £50
Many other parts available.